Aerospace Week: Looking for higher flights
The event returned to a face-to-face format and attracted several Técnico students who participated in the various activities.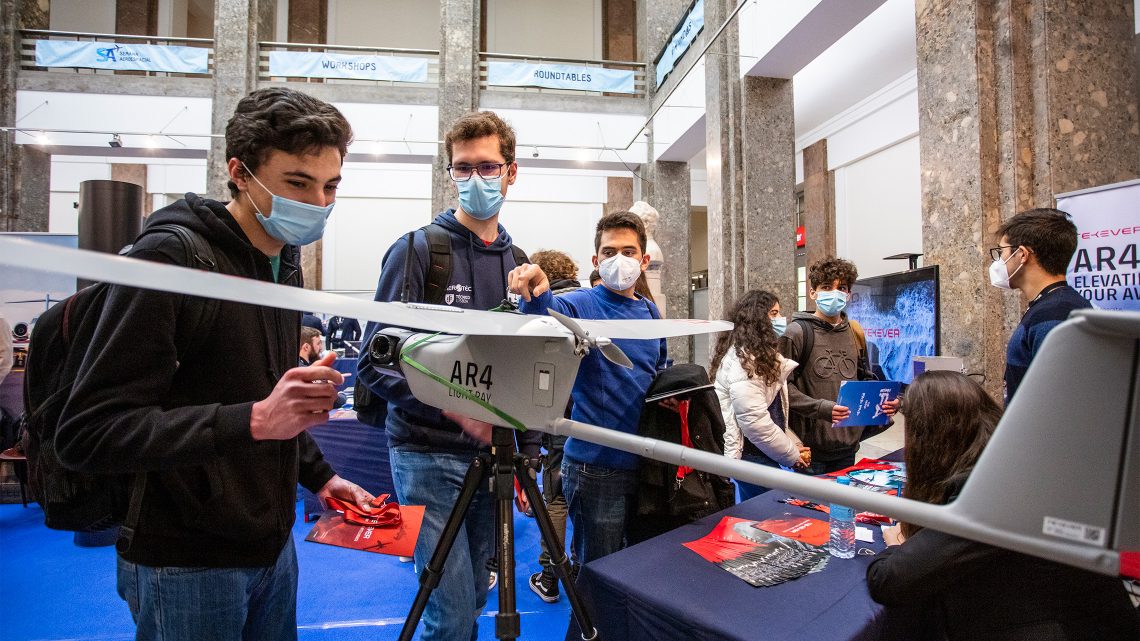 The Aerospace Engineering student group at Técnico (AeroTéc) organised a new edition of the Aerospace Week, from 14th-18th March, at Alameda campus. This year's edition included lectures, workshops, roundtables and alumni panels.
A flight simulator, aircraft models, prototypes, gifts and even popcorn caught students' attention. "This year we managed to attract a record number of companies. We have surpassed the barrier of 30 companies", shares Tiago Silva, coordinator of the 2022 Aerospace Week. Thales, Tekever, AeroMec, Neyond, Gmv and Netjets were some of the companies that participated in the business fair.
This year, AéroTec invited 15 renowned speakers in several areas, such as Space, Formula 1, Astrobiology, Aviation, Sustainability, and much more. Charles Huguet (Airbus), José Correia Guedes (TAP), Carlos Garcia-Galan (NASA) and Jan Lückhof (SAI) were some of the speakers who participated in the event.
After finishing secondary school in Portugal and spending one year working, Rodrigo Silva moved to the UK to study Mechanical Engineering at Oxford Brookes University, and fulfil his dream of working in Formula 1. This Friday, March 18, Rodrigo Silva shared his journey and gave some advice to those who want to follow his footsteps. "If you have the chance to go abroad, do that! You will have the opportunity to learn and grow more than you imagine".
During his internship as a Mechanical Design Engineer at Jim Stokes Workshops, Rodrigo da Silva increased his Engineering knowledge. During his final year dissertation, he worked with a F4 car (design and CFD). In 2019, he started working for the Renault F1 Team as a Surface Design Engineer in the Aerodynamics department, where he still works. The team's name was then changed to BWT Alpine F1 Team.
The roundtables started on Thursday, March 17, and brought together different types of companies. In addition, the participants had the opportunity to attend several workshops.
According to the coordinator of the Aerospace Week, the highlight of the event was "the team spirit we managed to build". "Everything has gone according to plan. We worked together for several months to achieve a goal and we knew that whatever happened we would achieve it as a team. Luckily, we are achieving success, which obviously makes us very happy", says Tiago Silva.
Tags: